<ins class='dcmads' style='display:inline-block;width:728px;height:90px' data-dcm-placement='N46002.3910832MAHOGANYREVUE/B29181624.356591058' data-dcm-rendering-mode='iframe' data-dcm-https-only data-dcm-gdpr-applies='gdpr=${GDPR}' data-dcm-gdpr-consent='gdpr_consent=${GDPR_CONSENT_755}' data-dcm-addtl-consent='addtl_consent=${ADDTL_CONSENT}' data-dcm-ltd='false' data-dcm-resettable-device-id='' data-dcm-app-id=''> <script src='https://www.googletagservices.com/dcm/dcmads.js'></script> </ins>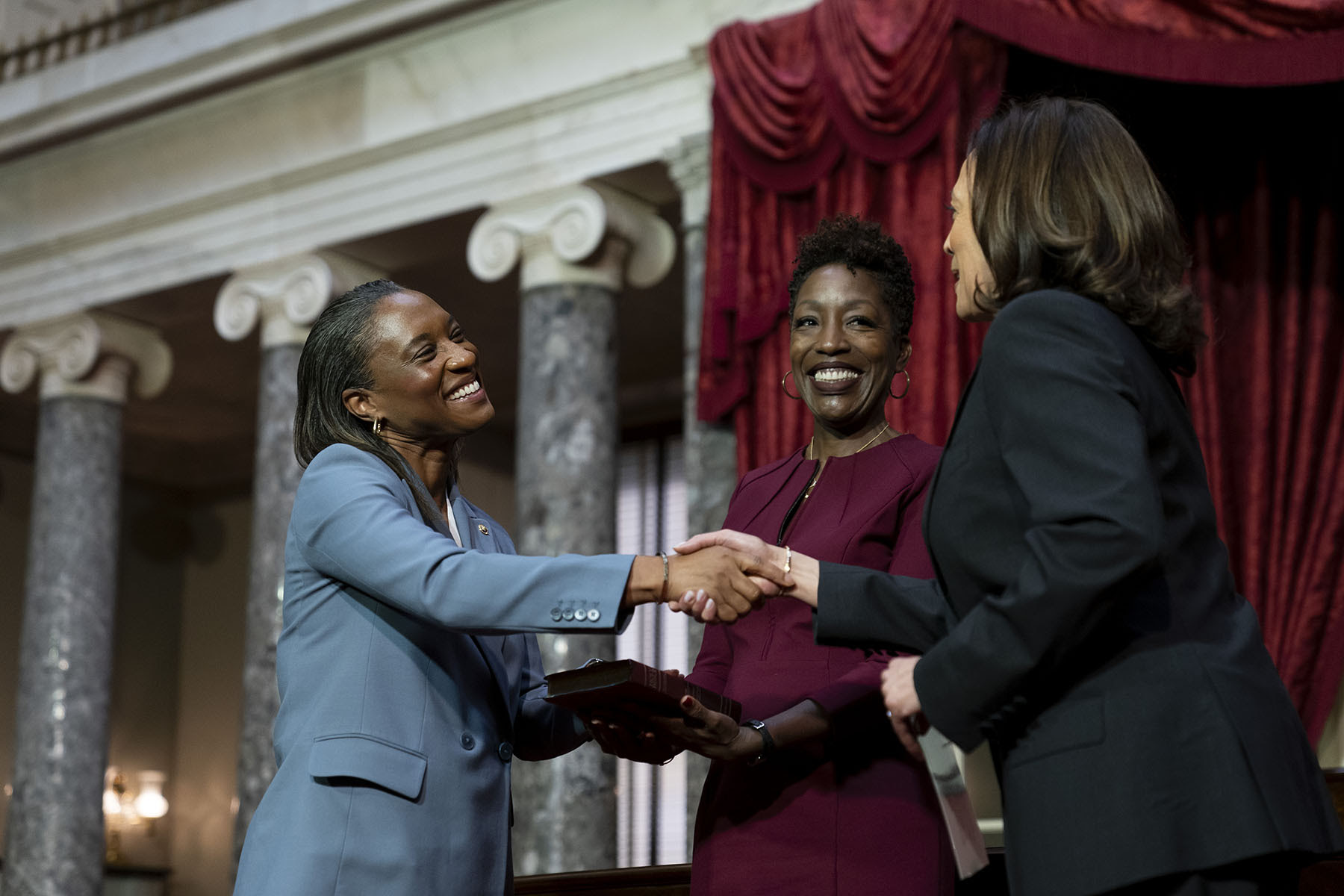 Vice President Kamala Harris swears in Laphonza Butler to the Senate on October 3, 2023, in Washington, D.C. Butler's wife, Neneki Lee, holds the Bible.(Stephanie Scarbrough/AP)
When California's governor had another Senate appointment to make, Black women mobilized.
This column first appeared in The Amendment, a new biweekly newsletter by Errin Haines, The 19th's editor-at-large. Subscribe today to get early access to future analysis.
As Vice President Kamala Harris swore in Laphonza Butler as the newest U.S. senator on Tuesday, the two political allies smiled at each other as the first and second Black women from California to serve in that chamber.
The moment was several years in the making, shaped largely by Black women in the shadow of disappointment.
When Sen. Dianne Feinstein died Thursday, Black women were determined to make sure Gov. Gavin Newsom made good on a March 2021 promise to appoint a Black woman to the U.S. Senate if he had the opportunity. Throughout the weekend, Black women mobilized across the state and the country, calling, texting, emailing, and speaking publicly and privately to hold him accountable and ensure that the appointment would come without caveats.
Late Sunday, the news that Newsom would appoint veteran organizer Laphonza Butler to Feinstein's seat felt like a hard-fought victory to many of them.
Newsom "understood this is something he could not turn away from," said Aimee Allison, founder of the progressive political action network She the People. "Black women everywhere are watching this. We want to make sure we are respected for the political powerhouses we are."
---
In many ways, the scene was a display of California's status as the current axis of Black women's political power — a remarkable position, given that Black people are only 5 percent of the state's population.
Harris, an Oakland native, blazed a trail across the Golden State, racking up wins and making history before she again broke barriers as the first Black woman in her current role. Los Angeles Mayor Karen Bass is the first Black woman mayor of her hometown. London Breed was elected in 2018 as San Francisco's first Black woman mayor. Shirley Weber is California's first Black secretary of state. Rep. Maxine Waters is the most senior Black woman serving in Congress.
Harris' ascent to the vice presidency in 2021 left no Black women in the Senate. Black women in California launched a campaign to replace her with someone who shared their lived experience. Newsom instead appointed Alex Padilla, sending him to Washington as the state's first Latino senator.
Undeterred, the state's Black women Democrats began eyeing their next opportunity. When Feinstein announced she would not seek reelection, Rep. Barbara Lee, who has represented Oakland since 1998 and was discussed as a potential vice presidential nominee in 2020, launched her bid to replace Feinstein in February. Black women in the state have lined up to support her, but the field is crowded, with two other House members running.
Feinstein's death threw the process into chaos. All eyes were again on Newsom. Less than a month earlier, he signaled on "Meet the Press" that he wouldn't appoint anyone to the seat who was currently running. In that interview, moderator Chuck Todd suggested whomever was chosen would be merely a "caretaker" in the role.
The comment was seen as a snub to Black women's leadership. Lee condemned the remarks in a statement: "Black women deserve more than a participation trophy. We need a seat at the table."
---
The Black women who were still stung after Padilla's appointment in 2021 were part of the coalition of women overwhelmingly responsible for beating back a recall effort against Newsom later the same year. They leaned on a multiracial coalition to push for a Black woman senator as Feinstein's departure became more imminent. They wouldn't let Newsom forget the promise he made.
"We did not want the public or the governor to lose sight of the fact that we needed a really solid plan not to forget about Black women," Allison said. "We wanted to make sure the governor fulfilled his promise. We did not stop until he did."
Molly Watson, deputy director of the California Donor Table, which pools political money to empower communities of color, was headed to a conference Friday morning. She'd been disappointed by national politics before but rolled up her sleeves anyway, emailing and talking to other organizers, operatives and donors to make sure their message was delivered to Newsom clearly.
Who Will Decide the 2024 Election?
One year out from the 2024 presidential election, The 19th will be at the Diane von Furstenberg Studios in New York City for a bold and urgent event on civic engagement and voting rights.
A younger vanguard of Black women immediately turned to the question of whether Feinstein would retire and when — something the old guard of Black Californian women were less willing to push for. They had laid the foundation for progress and valued the order of things. Watson said she and others had to walk the line between advocating for representation while honoring their elder stateswomen.
That dynamic will continue to play out, largely because of another victory Black women secured: that the senator replacing Feinstein would not be prevented from running to keep the seat next year — an acknowledgement that the person would not be solely a placeholder.
"You don't always get what you want, but we raised everybody's expectations about what we know we deserve and why they should write us into the rest of the plans moving forward, so that we aren't an afterthought," Watson said.
---
Butler's quick appointment, without strings attached, quieted criticism Newsom was getting around the pick. Some Lee supporters have still made it clear that they think she is the best person for the job, but they aren't criticizing Butler.
On Monday, as the country awoke to the news of Butler's appointment, Lee posted on X her well wishes, but also signaled her intentions: "I am singularly focused on winning my campaign for Senate. CA deserves an experienced Senator who will deliver on progressive priorities. That's exactly what I'm running to do."
Similarly, veteran Democratic strategist Donna Brazile also posted on X her support for Lee, and Massachusetts Rep. Ayanna Pressley — who endorsed Lee in May — said in a statement that she continues to back her for Senate.
"I have been fortunate to know her for more than a decade and see up close her unwavering commitment to advancing the bold, progressive policy our communities deserve," the statement reads. "She is qualified to lead, her voice is deeply needed, and she is exactly the senator California deserved."
It is unclear whether Butler will run next year. She's a former adviser to Harris — Newsom cited their the women's connection multiple times in the announcement of Butler's appointment. She's also the first openly LGBTQ+ senator from California. But Butler's deep ties to labor and the LGBTQ+ community and her pioneering role as the first Black woman to run EMILY's List  — in addition to her incumbent status — would make her a formidable candidate. Two women, Lee and Rep. Katie Porter, are already in the race, along with Rep. Adam Schiff.
Schiff's third-quarter fundraising total of $6.4 million and total of $32 million cash on hand dwarfs his opponents. (California doesn't have partisan primaries; the top two finishers regardless of party move on, which means two Democrats could run against each other next November.)
Even if neither Butler nor Lee is elected by California voters next November, the Senate is likely to still have a Black woman, with strong Black women candidates in Delaware and Maryland.  At least one, Maryland County Executive Angela Alsobrooks, is among the headliners at EMILY's List's annual luncheon in New York on Friday — which will now feature the Senate's lone Black woman and the organization's former president. The event could be an early opportunity for Butler to weigh her prospects in the room.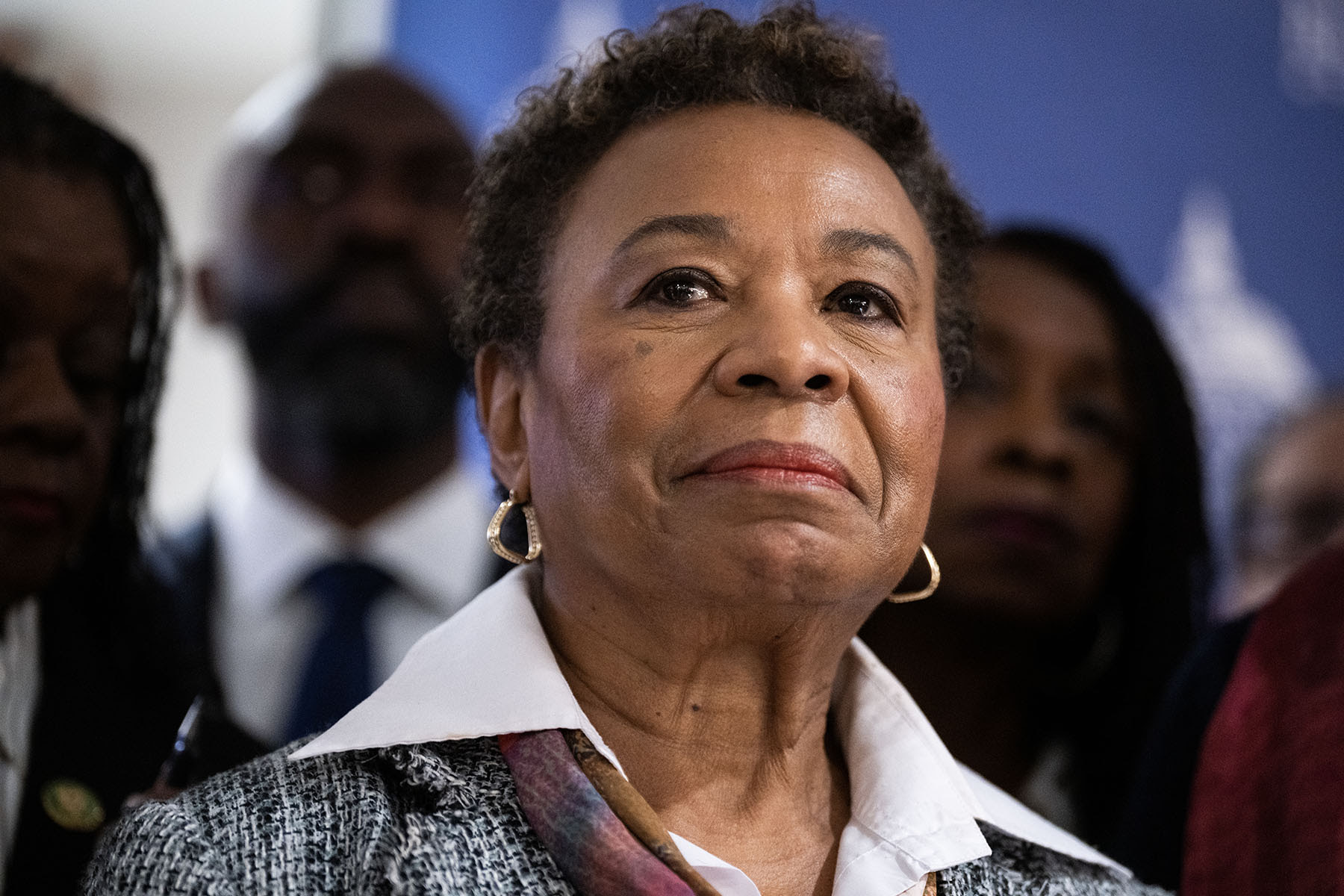 Rep. Barbara Lee attends the Congressional Black Caucus's National Summit on Democracy and Race near Capitol Hill in May 2023. (Tom Williams/CQ-Roll Call/Getty Images)
Higher Heights co-founder Glynda Carr said the appointment brings even more state and national attention to the race and could create a lift for Lee. Higher Heights, a political group dedicated to electing Black women, endorsed Lee earlier this year.
"There are Barbara Lee supporters today who are energized about supporting her and moving her to the next level," Carr said, adding that she expects more Black women to come forward in the coming days. Regarding Butler, Carr said: "There's a lot of politics that would have to happen. She's gonna run the numbers, both in terms of voters and money."
Allison said she didn't see the Butler pick coming, thinking that one of the qualified Black women who was already in elected office was the more likely choice. She was "all in" for Lee before and is still supporting her, but added Monday that, "Laphonza is one of us," someone who she can trust based on her track record to deliver for Black women in the Senate.
Will there be two Black women running in California in 2024? It would be another historic moment.
"Come 2025, I want one of those Black women in the seat," Allison said. "I want people to put to bed permanently the idea that Black women should be given partial access to citizenship and leadership. Elected officials and party leadership need to understand we are stepping fully into our power. We are not going to accept limitations on what that looks like. We're just starting."