How do we Safeguard the Grove?
Land owned by Black Grovites to become active and spark commerce on Grand Avenue
Approaches to slow down gentrification differ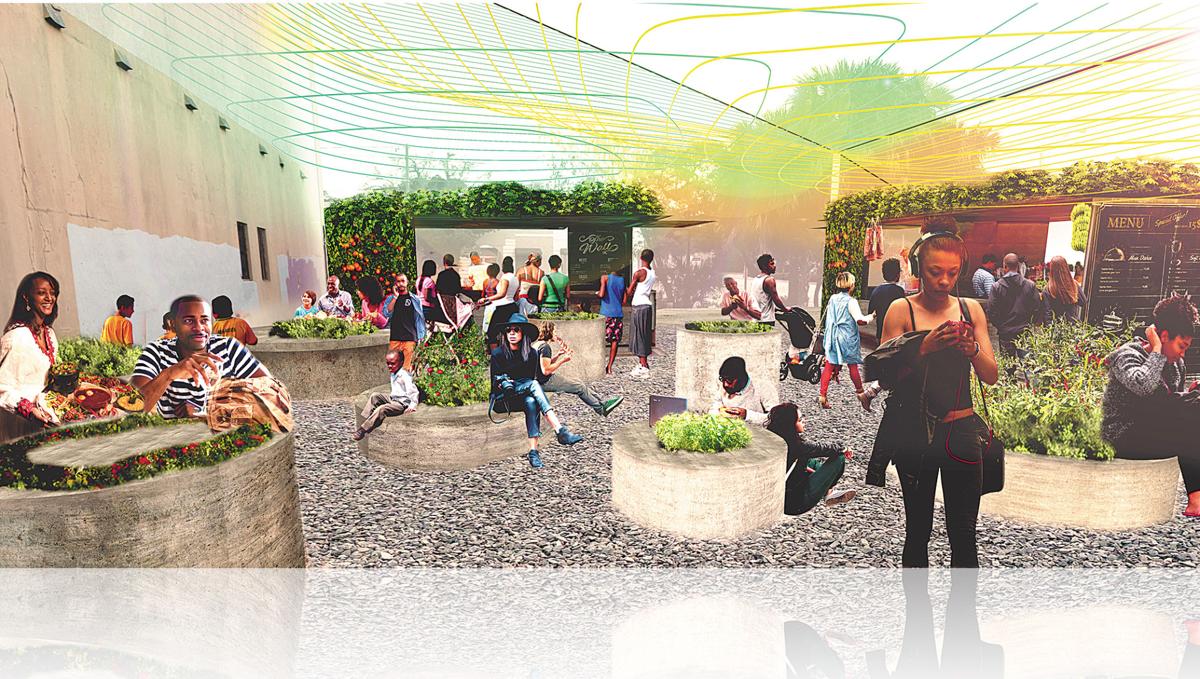 Driving through Coconut Grove is a sightly experience with beautiful architecture lining the streets. One of the most notable places is the corner of Grand Avenue and Douglass Road, the heart of what is known as the West Grove. The corner is home to a hair salon, a vacant building with bold artwork on the outside, Kroma Gallery that has a taste of the Bahamas on the inside, and the office of Kurz Real Estate Corp. The corner is also home to a vacant lot that has been that way since 1983. A collective of 20 Black people who came together to try to maintain ownership of land on Grand Avenue, purchased it.
"I just felt that Black folk ought to own something in the Grove and have a presence in the Grove," Thelma Gibson said, the founder of when Grovites United to Survive (GUTS), as the group of landowners are known.
Recently, GUTS leased the land to the University of Miami, which will build a pop-up market called MKTplace at Goombay Plaza, a name Gibson and friends had slated for a project they wanted to put on the land. But they could not come into enough funding to carry out the project.
"We had borrowed a half million dollars from the city, and we paid architectural fees and plans; we even had a model for what we wanted to do over there, and it was beautiful," Gibson said.
Gibson is not interested in selling the property, though many inquiries have come to her over the years.
"I guess I've been dogged about not selling and trying to hold onto a little piece of the land that our grandparents came here and had and owned," Gibson said. "Why let somebody else come in and take it all if we can work together and do something about it?"
MKTplace at Goombay Plaza will be a pop-up market and public space where residents can go and buy food and mix and mingle. It's expected to open in early fall on Fridays, then gradually become more available as time goes along. Organizers expect to host an eclectic mix of food at the market that will reflect the cultures found in Coconut Grove. The public space will include art, music and special events.
The spaces will be made from 200-square-foot shipping containers. Vendors can expect wifi, bathroom facilities and an onsite market manager.
The James L. Knight Foundation and Commissioners Ken Russell and Xavier Suarez are helping to fund the project.
Suarez believes this project will bring life to that corner.
"This market is our best opportunity to reintroduce commerce in Coconut Grove with local entrepreneurs," Suarez said. "A great first step for the community and future of the Grand Avenue corridor of the Grove."
Russel believes this project will bring life into the area.
"We are injecting life, music and fun into an otherwise blighted and empty lot. There are so many spaces like this in the West Grove. I'd like to look at them as spaces of opportunity to benefit the community," Russell said.
Gibson and the other Grovites are not directly involved with the planning of the market, but are working on building something more permanent on the land, which will take them at least two years to get it set up.
"The Goombay marketplace is a beginning for something new and the fact that the young people don't mind coming into our community to get some things started, I think from there we may be able to accomplish some future goals," Gibson said.
Even if the pop-up market bring something new to the area, residents are also aware of the changes taking place around the West Grove.
Gibson has called the West Grove "Colored Town" ever since she was born in 1926. She spent her childhood and most of her adulthood in the West Grove. She recalled growing up on Charles Avenue and knowing everyone on the street.
"We had to speak to everybody," Gibson said. "Back in the day, everybody sitting on their porch and we had to go down and say good morning to whoever was out. And coming back, it would be good afternoon. We spoke and everybody spoke to you. People came out and shared their fruit. We got guavas from everybody, mangos, avocados. We were able to share with one another."
When integration came in 1954, Gibson said there was "white flight," which was when all the whites left the area. Soon after, Blacks began moving into the sections of town they had never lived in before, which were Florida Avenue and east of Elizabeth Street. Gibson said the community went from 1955 until 2005 before whites started coming back in.
"We really went over 50 years, then we saw whites beginning to come back into the colored community and taking over with the kind of housing they were building that we couldn't afford to buy," Gibson said. "Thats a reason why whites are moving in."
The West Grove is scattered with lots under construction, and newer, more modern homes popping up throughout the community.
"It's a different place," Gibson said. "It going to continue to change."